In the group we are always stronger than alone. This is just as true in everyday life as it is at work. If you and your team work together, you work more efficiently, achieve your goals faster and overcome hurdles more easily. All the weight is then not only on your shoulders, but is distributed among many and no longer weighs quite so much. That's what teamwork is.
What exactly does teamwork mean?
"Teamwork" is an Anglicism and literally means nothing other than "group work". At least two people dedicate themselves to a task or a project and master it together. They share a certain attitude to work and a certain way of thinking, which makes it much easier for them to work together. We are talking here about a form of work that is characterized by various features.
At the top of the list is the We-feeling. Only if your colleagues and you allow that a Connectedness If you work together as a group, you can grow into a well-functioning team. Only together can you reach your goal, and you should always keep that in mind.
Work hand in hand
Mutual support is needed - the second characteristic of teamwork. You complement each other. If a team member is stuck, he or she can count on help from the others. You can think of your interaction as cogs pushing each other forward. Each gap represents a weak point.
There, a tooth of another wheel always grips and compensates for this weakness. Sometimes it is your wheel that provides the driving tooth, sometimes another. This creates an optimal interplay between strengths and weaknesses, and you drive each other ever forward. Motivation and commitment of all involved are important cornerstones for successful teamwork, which is also the Case study by Pina Tarricone and Joe Luca confirms. If problems arise, there will always be someone in the team who can come up with the brilliant idea to solve them.
And if not, then you work them out together and leave no one behind on the way to the goal. Of course, sometimes a certain amount of competition can't be ruled out, and that can even be good. Up to a certain point, you spur each other on. However, it is important that you do not overdo it and do not become hostile. The common goal and the fact that it is much easier to reach it together should always be the priority.
Seeing the big picture together and talking openly with each other
It's important that you don't just see your own successes, but the bigger picture that you're realizing together. Team success is what you should be working for - it means true teamwork.
But all that only works with well-functioning communication - the third characteristic of teamwork. You can only work effectively and move your project forward if you are always up to date and no one misses out on important information. Misunderstandings can also be cleared up very quickly if you maintain an open relationship with each other and simply address things.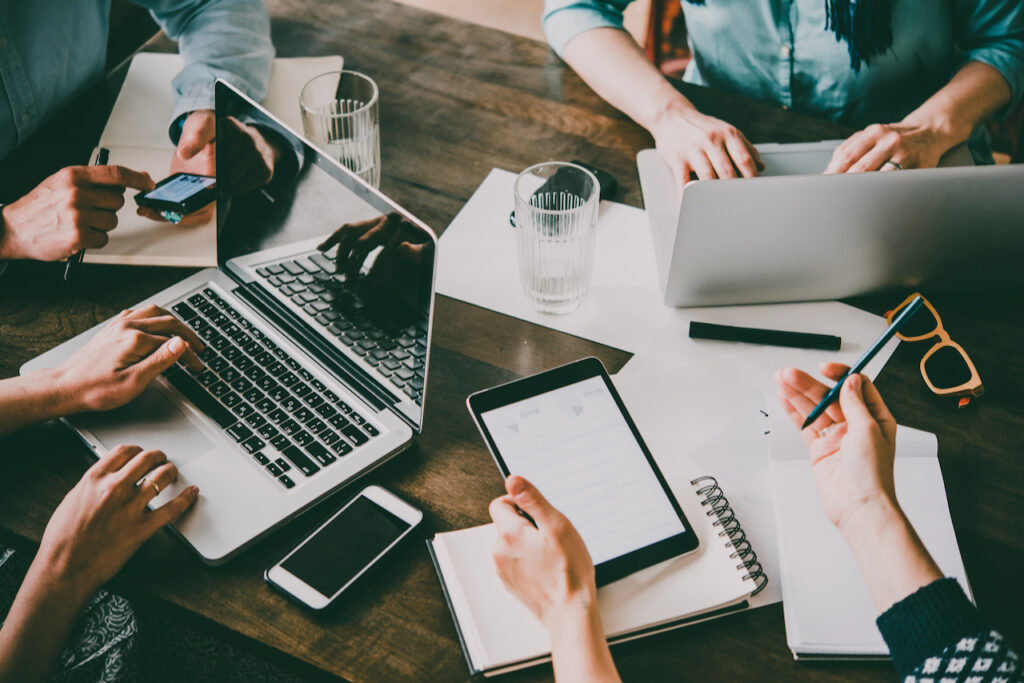 10 tips for successful teamwork
The boss says, "Now it's teamwork time, let's go!" You look at each other and don't really know what exactly he expects from you now. You know you are supposed to work together, but real teamwork doesn't come from a simple request.
Now it is important that every single person involved contributes to the fact that you grow together into a well-functioning team. How does this work best? We've put together 10 tips for you and your colleagues.
1. defines a common, overarching goal
Teamwork is about collaboration, that's clear. But where is it all going? What exactly is the overall goal you are working towards together? Even if it seems obvious, put it into words, write it down in big letters, and place it so that it is always visible to everyone.
In the heat of the moment, you can quickly lose sight of the actual goal and the project suddenly moves in a different direction quite unintentionally. This wastes an incredible amount of time and energy. Clearly defining your goal also helps to prevent misunderstandings.
The broad direction is clear, but there's a danger that everyone will embellish the overarching theme differently. Already it becomes impossible to bring everyone's work together, because the pieces of the puzzle just don't fit together, no matter how you twist and turn them.
2. the optimal team composition
In order to maintain harmony in the team, it is obvious to select employees who have the same way of working and share similar ideas. This helps to avoid friction, but does it really lead to great success? Probably not. Diversity is the key word.
Different approaches, ideas, and ways of working fuel discussions, and that's what moves you forward. After all, nothing new can come into being if you don't help each other out of your Comfort zone out and pushes you to greater things. You complement each other's ideas and can catch mistakes much more quickly when there's someone looking at it from a completely different perspective than, say, you do yourself.
3. too many cooks spoil the broth
A lot does not always help a lot. To ensure that each member really gets a chance to speak and is listened to carefully by everyone else, the team should not be too large. Five to eight people are perfect. On the one hand, this ensures the all-important intellectual diversity, and on the other hand, the group is still small enough to prevent chaos.
Discussion will move you forward, no question. But this is only true up to a certain point. If the entire cooperation consists only of disagreements, you will eventually not move forward at all and the goal will become more and more distant.
In teams that are too large, the sense of belonging often suffers. Among many people, it is often difficult to open up and to dare to present one's own ideas. This is often much easier in a more intimate atmosphere, which is exactly what smaller groups offer.
4. the basis is trust
Every group that works closely together has one thing in common: all participants trust each other and are not afraid to open up to each other. Only when you reach this state will your collaboration be successful. If someone feels insecure, they will hold back and all the great ideas they could otherwise contribute will go unheard. So create an environment that is respectful and where no one has to be afraid of getting mean comments. Team coaching are a great way to work on that.
5. security at all levels
A space of psychological safety is needed, where everyone is taken seriously and where everyone is allowed to express their opinion freely. No one should have to fear being kicked off the team or even losing their job because of an idea that didn't move you forward after all. You disagree with another team member? That's no problem.
It's okay to let him know that - but it's the way you do it that matters. Feel free to start a constructive discussion, but stay objective and show your counterpart that it wasn't wrong to share his idea. It may even kick-start the concept that will lead you to success.
6. from strangers to good colleagues
Especially in large companies, it is not uncommon that some employees do not even know each other. How then is it supposed to work to create a trusting and safe environment in which everyone can open up? All team members should first work on their professional relationships. Get to know each other, share your experiences, and share what makes you tick. The better you know each other, the more likeable you will become.
The atmosphere is becoming more relaxed and trusting. Joint team activities after work help you achieve this. Meet for a drink after work, go bowling together or think of something else that everyone will enjoy. Away from the workplace, it will be easier for you to approach each other openly and get to know each other.
7. do not be afraid of mistakes
When problems arise, it's easy to blame others. But have you ever thought about checking whether you should rather clean your own front door? If the cause really lies with you, then only you can sort it out. So don't be too vain, but own up to it if you've made a small mistake. It won't end the world.
If you have created a trusting and safe atmosphere, no one will be angry with you. The team is interested in moving forward, not in letting problems hold them back. The sooner you take responsibility for it, the sooner you can solve it. The whole team will finally be one step closer to success - and everyone will be grateful.
8. clear division of tasks
Even though you are working as a team, it doesn't mean you have to go every step of the way as a group. If you have considered diversity in the constellation, then members with different strengths will come together, so take advantage of that! Distribute the tasks accordingly and clarify who is responsible for a certain part of the work.
Whoever is an expert in the field in which the current task belongs should also be responsible for it. So clarify right at the beginning who will work on which task area based on their strengths. In the course of the work process, you put your results together, exchange ideas again and again and thus create the big picture.
9. work closely together despite the division of tasks
We've just discussed it - it makes sense to let experts work on certain tasks alone if they require a lot of concentration and the other team members would only cause distractions. However, if you rely heavily on such expert work, the team spirit will quickly be lost. Make sure that the sense of belonging and the communicative atmosphere are maintained nonetheless. Don't forget to update yourselves regularly. It's best to start your working day together, discuss what's coming up today, and also finish it together, exchanging ideas about what you've achieved and where there may have been problems.
10. feedback, not criticism
Take time each day to give each other feedback. Did you feel like you belonged on the team today? What did you notice that needs improvement? What went particularly well today? Do you have a tip for someone that could help him/her be more productive tomorrow?
No matter what you want to say, say it respectfully and never in a belligerent or condescending manner. If you rush in with criticism, your counterpart will immediately go on the defensive and you're already on the verge of a Conflict outside the door. This behavior stops the whole team.
Teamwork delivers these benefits
You agree that you want to work closely together and are ready for real teamwork? Then you'll reap the benefits! At the top of the list is productivity. Worried the others might slow you down and distract you from your tasks? That won't happen if the team is smartly assembled.
Ideally, you complement each other and support each other. Lively discussions ensue, which bring out ever better performance from you. Another advantage is that the feeling of belonging to the company grows. A poor working atmosphere is one of the most common reasons why employees quit. Companies that rely on teamwork, on the other hand, enjoy a much higher level of employee satisfaction. Loyalty.
The employees feel comfortable and feel every day that they belong. The safe atmosphere in which everyone can express themselves openly increases satisfaction. It is not uncommon for great friendships to develop, and what could be better than working with friends day after day?
Does teamwork also have disadvantages?
Teamwork is a great thing, no question about it. But if you don't follow our tips, the whole thing can turn into a problematic affair. Especially in large groups, teamwork can quickly become a brake. Making decisions becomes more difficult. It's also possible that no one feels responsible for certain tasks, because everyone thinks, "The team is so big, someone will take care of it."
Disadvantages also arise when individual achievements are not appreciated at all. Of course, the joint performance is in the foreground, but it builds on the work of each team member. If those involved do not feel appreciated, they will eventually sit back and the joint work will come to a standstill. The Appreciation should therefore not be neglected.
How you can prevent all this? With our Business Coach Training! As a manager, you learn everything that is important to perfectly coordinate your team and strengthen the cohesion. In the Greator Business Coach training you can acquire the basic knowledge and the necessary skills. This applies regardless of whether you are a manager or whether you want to work later as an independent coach.
100 % of the training takes place online, so that you can easily integrate the learning content into your everyday life. You will receive two high-quality learning videos per week, in which we will teach you step by step all methods and topics in the area of the Business Coachings familiarize yourself with. Your digital workbook will help you to consolidate the content you have learned.
Have we aroused your curiosity? Then apply today without any obligation for our high quality Business Coach Training.